HCH at Caffè Lena / Saratoga Springs NY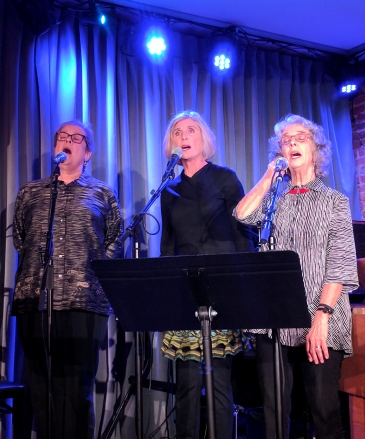 Huxtable, Christensen & Hood
"Little known, largely delightful ... if you're partial to exquisitely crafted harmonies and a repertoire that ranges from obscure centuries-old ballads to Tin Pan Alley tunes to delightfully arranged doo-wop, then get acquainted with this marvelous trio."
-- Mike Joyce, Washington Post
Teresina Huxtable, Carol Christensen and Liz Hood sing popular music of five centuries, including traditional music of the British Isles and North America, Renaissance songs, sheet music standards, doo-wop, Western, and original tunes. Known for their tight vocal harmonies, often a cappella, plus their inventive arrangements and lively humor-filled performances, they have been favorites with audiences in the Northeast and Mid-Atlantic regions for years. They accompany themselves with piano, vintage reed organ, recorders, accordion, synthesizer and an assortment of whimsical percussion instruments.
Based in Saratoga Springs NY and Virginia, they have appeared at numerous venues including the Philadelphia Folk Festival, Mariposa Folk Festival, The Golden Link Folk Festival, Old Songs Festival, The Clearwater and Bear Mountain Festivals, The Towne Crier, Caffe Lena and Godfrey Daniels. After a long hiatus from regular performances, HCH has a new CD and is returning to more frequent appearances.
Their first album, Wallflowers, was released on Philo Records and reissued by Rounder Records. Their second, Melancholy Babies, is available on CD from Fool's Hill Music.
Their third album, Under the Weather — the first in decades — is now available! You can buy the new album on CD or as a digital download from Fool's Hill Music. Here's a nice review by music journalist and broadcaster Mike Regenstreif : (Folk Roots/Folk Branches)